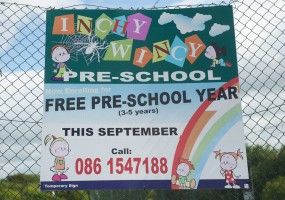 Inch, Ennis, Co Clare
Phone: Caitríona Talty: 086 154 7188

Inchy Wincy Pre-School opened in September 2013 and is thriving since. It is a beautiful and fun setting which is based in a new class room in Inch National School. Inchy Wincy Pre-School was set up and is run by Caitriona Talty, whom is a local lady from Connolly and Caitriona is also the pre-school teacher. Caitriona has a lot of previous experience of working with young children in different settings and has undertaken her studies in University College Cork where she achieved a BA Degree in Early Childhood Studies along with numerous other relevant qualifications and training.
The pre-school caters for up to eleven children, aged three to five years and provides Free ECCE Places, Part Time Places and Full Time Places. The children receive one to one attention from their pre-school teacher due to the ideal size of the setting. The aim of Inchy Wincy Pre-School is to provide a warm and welcoming environment, enabling children to learn through a play based curriculum. Inchy Wincy Pre-School works in partnership with Inch National School to ensure that the children are provided with a comfortable transition to big school.
The children enjoy a wide range of activities at pre-school each day and are lucky enough to avail of the national schools facilities also, such as, the play ground, the hurling field, the horticulture area and the library. Some of the activities which the children take part in at pre-school are; messy play, outdoor play, table top activities, imaginative and creative play, numeracy and literacy, arts and crafts, planting, constructive play, music and dance, songs and poetry, and free play. Throughout the year there are a lot of different themes covered to enhance the childrens learning through positive and fun ideas, such as; making new friends, autumn, halloween, winter, christmas, community helpers, easter, spring, the farm, the ocean, summer, life cycles and many more.
Inchy Wincy Pre-School also takes part in some extra activities such as Gymboree, school tour, Inch N.S christmas carol service and hopefully a trip to the fire station and a visit from an ambulance and paramedics.
After the first year of pre-school, there has been excellent and heart warming feed back from children, parents, and the wider community.