V. Rev Frank Meehan
Thursday, November 16th, 2017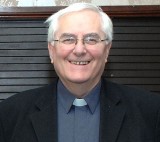 The death has occurred of  V. Rev. Francis Meehan, Parish Priest of Shinrone, Birr, Co Offaly  in Tullamore Hospital following a short illness
Fr. Frank  was born on 2nd March 1946.
Fr Frank Meehan was a native of Ennis, Co Clare and was a priest of the Diocese of Killaloe for 46 years.
He was a past pupil of St Flannan's College, Ennis.
He studied for the priesthood at St Patrick's College, Maynooth and he was ordained in the Cathedral, Ennis on 19 June, 1971.
After his ordination he was appointed Curate in Kilmurry Ibrickane and in July 1973 he was appointed to the Emigrant Apostolate in England.
He was recalled in November 1973 to become a temporary Curate in Bodyke.
He was then appointed in July 1974 to work in the Archdiocese of Dublin where he remained until 1978 when he was appointed Curate in Silvermines, Co. Tippeary.
In July 1987 he was appointed Curate in Shinrone, Co Offaly and he succeeded as Parish Priest there in July 1998.
Funeral Remains arriving to St Mary's Church Shinrone, Co. Offaly at 2.00 pm Friday, November 17th 2017 Lying in repose until 9.00pm Friday.
and from 10.00 am until 7.30pm Saturday, November 18th. (Vigil Mass in St Mary's at 8.00pm Saturday).
Concelebrated Funeral Mass at 2.30pm Sunday, November 19th in St Mary's Church, Shinrone
Burial in adjoining cemetery.
Suaimhneas síoraí tabhair dó a Thiarna, agus go lonraí solas suthain air.