St. Flannan's Night Classes & Saturday Workshops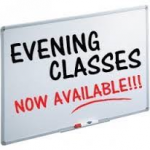 Classes for Adults will resume on Wednesday February 6.
Classes include: Mindfulness, Make-up, Sign Language, Interior Design, Flower Arranging, Acrylics Painting, Crochet, Spanish, Yoga, CPR/AED, Creative Writing, Environmental Studies and Skincare.
We will also offer once-off Saturday Workshops in Stained Glass, Portrait Painting, Mosaic and many more.
Text/phone 085 1670326 for further details and bookings.