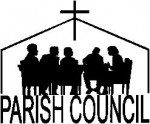 Our Pastoral Plan "Builders of Hope" envisions people & clergy working together so as to enhance the Church in our place at the present time.
One of the ways in which this is carried out is through the work of Parish Pastoral Councils.
This is a group of interested people and clergy working together to look at our present situation & to draw on the many talents of people in our community.
In this manner we extend an invitation to form a Parish Pastoral Council comprising of 3 people from each area, covering all age groups (Inch, Kilmaley, Connolly, Lisroe).
Nominations can be handed into the Parish Office.
This is our place; let us continue to share our energy, talents & time.