New Principal for St. Flannan's Diocesan College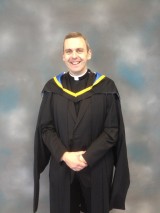 Bishop Fintan Monahan has appointed Fr. Ignatius McCormack as principal of St. Flannan's Diocesan College in Ennis Co. Clare following approval by the College Trustees earlier today. The appointment takes effect on the 1st September 2017 when the current Principal, Ms. Carmel Honan, takes up a new appointment as Principal of Glenstal Abbey School in Murroe, Co. Limerick.
Announcing the appointment Bishop Monahan said;
"I wish to express gratitude to the outgoing Principal Ms. Carmel Honan for her service to the school community over 27 years including the last 5 years as principal. I wish her every blessing in her future career. I am deeply grateful to Fr. Ignatius for agreeing to take on this challenging and important task in our Diocese. As a diocese we are deeply committed to the principles of Catholic Education and I know that Fr. Ignatius will work tirelessly to build upon the great tradition of St. Flannan's College creating a special atmosphere animated by the Gospel spirit of freedom and charity."
Fr. Ignatius McCormack in response to his appointment said;
"I am humbled by the confidence that Bishop Monahan has placed in me by this appointment. Having spent the last 16 years on the staff of St. Flannan's College, I have a deep respect for the tremendous commitment that my colleagues show to the care and development of our young people. I look forward to working closely with them in building upon the long tradition of excellence in education that is at the heart of St. Flannan's."
Biography of Fr. McCormack
Fr. Ignatius McCormack was born on August 1st 1972 in the parish of Kilcolman, Co. Offaly. Educated at Ballyegan and Coolderry National Schools his secondary schooling was in St. Brendan's Community School in Birr.
On completion of his secondary schooling Fr. Ignatius entered St. Patrick's College Maynooth and received a BA in Geography and Classics in 1993. Awarded a BD by the Pontifical University in Maynooth in 1996 he completed his Higher Diploma in Pastoral Studies in 1997.
Fr. Ignatius was ordained to the priesthood for the Diocese of Killaloe by Bishop Willie Walsh on 7th June 1997 in his native parish of Kilcolman. His first appointment was as curate in the parish of Toomevara, Co. Tipperary where he ministered until the year 2000. From 2000 – 2001 he studied for the Higher Diploma in Education at Trinity College Dublin while teaching at Loreto College on St. Stephen's Green.
Since 2001, Fr. Ignatius has served on the staff of St. Flannan's College, as Dean of Studies from 2001 to 2005 and on the teaching staff since 2005. During his time in St. Flannan's College he has assisted in Kilmaley parish and is currently the Administrator of Quin Parish.
He has spent the last 14 years as Vocations Director for the Diocese of Killaloe. In 2014 Fr. Ignatius was awarded an MA in Theological Studies by UL from Mary Immaculate College and in 2015 he received the Higher Diploma in Educational Management and Leadership from NUIM.
St. Flannan's Diocesan College
St. Flannan's College Ennis was founded in 1881 as a Diocesan College for the Diocese of Killaloe. Today it is a co-educational secondary school with over 1200 pupils and over 80 teachers. It has a long tradition of academic excellence as well as a great reputation for achievements in sport and other extra-curricular activities. The current President of Ireland, Michael D Higgins is among its past pupils.