Ministry of Pastoral Care in the Diocese- Why this New Ministry?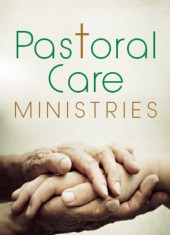 In our experience of parish life, the Ministry of Pastoral Care is provided by a Priest or, in some parishes, a religious sister.
Their visits in hospitals and homes at times of bereavement or illness, bring the care and compassion of Christ and of the Christian Community to individuals and families at critical times in their lives.
The Ministry of Pastoral Care is not reserved to priests, but belongs to the whole Christian Community.
Increasingly this ministry is offered by lay people.
Many of us, for example, will have met lay chaplains, working in the area of pastoral care in a hospital setting.
The new Ministry of Pastoral Care aims to train lay people to work alongside priests, offering the care of the Christian Community to those who need it.
These will be people who are able to relate well to people who are sick or bereaved, and who have successfully completed the training for this new ministry.
Following training and a period of mentoring, they will be commissioned by Bishop Fintan for ministry in a Parish or Pastoral Area.
Leaflets available in Churches.