Ministry of Catechist in the Diocese- Why this New Ministry?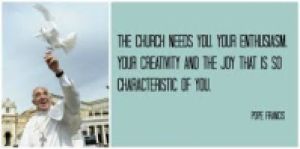 In 21st century Ireland the rapidity and enormity of change increases all the time and especially in the life of our Church.
Traditionally, faith has been passed on to future generations through our Catholic Schools. This work can no longer be carried by the schools on their own. the new "Grow in Love" programme envisages Home, School and Parish working together as partners.
Teachers need support in their work in the classroom. Parents need support if they are to journey in faith with their children.
It is envisaged that the new role of Catechist will work with parents and teachers, offering support on behalf of the Parish Faith Community.
Another area of challenge for us as faith Communities, is to find ways of engaging with adults around questions of meaning to life and faith.
The Catechist will be to open up possibilities for meaningful conversation on these questions. Often though not exclusively, these opportunities arise at sacramental preparation moments when we have contact with people.
What does a Catechist do?
The role of a diocesan catechist is to create opportunities for people to explore faith and to assist of various faith development programmes at both Parish and Pastoral Area Level especially around the moments of preparation for the Sacraments.
What kind of work would a Catechist be doing with Parents?
You may be aware of the kind of programmes that are already in place in parishes to gather parents when a child is preparing for Baptism, First Reconciliation, First Communion or Confirmation.
Programmes like 'Do This in Memory' and 'You Shall Be My Witnesses' already try to engage with parents. The Diocese hopes that the new Catechists will accompany and help facilitate these programmes in parishes and pastoral areas.
The role of the Catechist will be to gather and support groups to work on these programmes.
Often the only opportunities we have as Christian Communities to engage with families, parents and children, are through the sacramental moments. Indeed, many who approach for sacraments now have very little contact with Church. Often these are the only moments we have for engaging with younger families.
They are moments of opportunity.
The programmes are a good way of involving parents, but they are not enough in themselves.
Part of the role of the new Catechists will be to help us develop approaches that connect meaningfully with adults in our parishes.
How can we open up conversations on what is important to them, on meaning to life issues, on the challenges they face living in a culture which is consumer focused and technologically driven?