Local Injuries Unit (LIU) at Ennis Hospital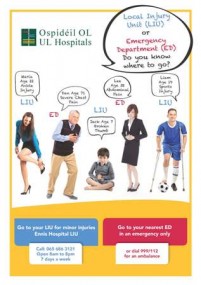 UL Hospitals Group has launched a new poster campaign to raise awareness about the services provided by its Local Injury Units (LIUs) in St. John's Hospital, Limerick, Nenagh and Ennis Hospitals.
LIUs are locally based services treating minor injuries in patients from the age of 5 years upwards. They are a safe alternative to the Emergency Department (ED) for a number of injuries and conditions.
These new posters are localised to each LIU and they all contain a simple message, 'Go to your nearest LIU with a minor injury and go to your ED in an emergency'
Throughout Winter, ED presentations tend to be higher than the rest of the year so to alleviate this pressure, we are encouraging GPs to refer patients, young and old, with minor injuries to their local LIU; we also see a significant number of minor sports injuries in our ED, many of these can be treated in the LIUs so we would encourage all sports clubs and those involved in organised sports to utilise the LIUs; any patient over the age of 5 can be treated in an LIU with a minor injury, so we are seeking to highlight with schools and parents that any falls, breaks or sprains in the school yard will be seen and treated more quickly in the LIUs this Winter.
At the LIU, clinicians will assess the patient's injury, request x-ray or other diagnostic interventions, prescribe analgesia or tetanus, suture wounds and provide discharge advice, all under the clinical governance of a consultant in Emergency Medicine. Emergency Medicine RANPs (Registered Advanced Nurse Practitioners) rotate between the LIUs and the ED at University Hospital Limerick (UHL). Protocols are in place for the transfer  of patients to UHL, who clinical staff have decided are too unwell to be treated in the LIUs or whose condition falls outside the criteria for care in the LIU.
All patients should, in the first instance, consider whether they can be more appropriately treated by their GP or out-of-hours GP service such as Shannondoc before presenting at either an LIU or the Emergency Department.
For Schools, Sports Clubs or GPs surgeries who wish to receive copies of the posters, please contact your LIU in Nenagh Ennis or St. Johns. Posters can also be downloaded from the UL Hospitals website, www.ulh.ie or by contacting the Communications Department at UL Hospitals onulhgcommunications@hse.ie .
The LIU at St. John's Hospital is open Monday to Friday from 8am to 6pm, and can be contacted on 061 462132.
LIUs are  open in Nenagh Hospital, 067 42311 and Ennis Hospital, 065 682 4464, 8am to 8pm 7 days a week.