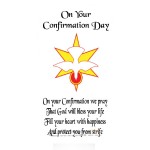 Congratulations to all our young people who were confirmed on Friday 13th April by Bishop Fintan.
We pray that the Spirit of God will guide them and help them in all their decisions -
CONNOLLY N.S.: Maria Burke, Charlotte Curran, James Doherty, Holly Dunphy, Jamie Healy, Lucy Mc Donnell
INCH N.S.: Joseph Casey, Evan Clancy, Naoise Conlon, Judith Egan, Gareth Harvey, Odhrán Hayes, Brian Mc Ardle, Ava Mc Guane, Sarah O'Sullivan, James Vaughan, Ríona Williams
KILMALEY N.S.: Clodagh Armstrong Lynch, Evan Casey, Stiofáin Cooney, Ciara Costello, Ryan Courtney, Joshua Daniels, Tadhg Falvey, Alicia Gavin Alan Healy Keogh, Emily Hegarty, Andrew Hegarty O' Brien, Leilani Lent, Kate Lees, Caitlín McInerney, Ben McMahon, David O'Donoghue, Nicole O'Loughlin, Leah Pyne, Daniel Russell, Samuel Wall, Katie Warren.