"Builder of Hope" Diocesan Pastoral Plan- Summary Report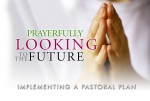 DIOCESAN PASTORAL PLAN "BUILDERS OF HOPE~ SUMMARY REPORT ON PROGRESS TO DATE ~
What is affirmed – There is a strong support for the basic thrust of the plan in terms of prioritising our gospel mission and promoting the participation of all the baptised in that mission. There is recognition of work achieved in the last two years and a desire that this work be built on and these priorities be given new impetus in the coming years.
What is criticised – The mid-term evaluation identified five points of weakness in relation to the plan and its implementation:
The plan lacks an implementation structure – a concrete programme suited to the needs and capacity of the parishes
The implementation lacks a visible, energising leadership that can encourage committed people on the ground and reach out to and engage the wider community
The coordination of implementation is overly structured and ineffective – there needs to be greater integration, freedom and flexibility
The pressures experienced by priests over the last couple of decades have not been adequately recognised and addressed in the plan
Financial planning for the implementation needs to be developed in the context of a review of the whole funding model in the diocese
What is proposed – There are four basic recommendations
An annual implementation plan to be developed based around needs and opportunities in parishes, and a realistic assessment of capacity in the diocese.
A new and simpler leadership structure to be put in place for the implementation of the plan. This includes the appointment of a fulltime priest director and assumes the full support of the bishop when the appointment is made. The leadership, including the bishop will have two roles. Firstly providing a much stronger and more personal profile for the plan – supporting those involved in the parishes and also reaching out to the wider community. Secondly managing the implementation in a more integrated and strategic manner.
A programme of outreach to priests that recognises the pressures that they have been experiencing, and that seeks to identify how best they can be supported in the coming years throughout the implementation of the plan.
An exploration of a new model of diocesan funding that can provide a realistic and sustainable funding base for the implementation of the plan.