Read more on "Killaloe Diocesan Appointments" »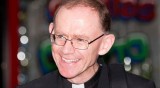 Bishop Fintan Monahan today issued the Diocesan Clerical Appointments for 2018.
The appointments reflect the ongoing work of the Diocesan Pastoral Plan – Builders of Hope.
They are the fruit of much consultation between Bishop Fintan, the Pastoral Planning Team, the Clergy and a series of public meetings held across the Diocese in March and April.
Key Principles
During the